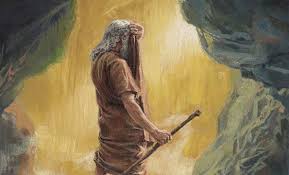 Elijah has always been one of my favorite Bible characters, and I'm particularly intrigued by the chapter where he fights deep depression (1 Kings 19). The mighty prophet had witnessed amazing answers to prayer, stopping the rain for years before starting it again. He had multiplied a widow's meager supply of food and raised her son from the dead. And for good measure, he called down fire from heaven and slayed the false prophets of Baal.
Huge victories, to say the least. Impressive demonstrations of faith. Causes for great celebration, we might think.
So how in the world did Elijah become utterly depressed—to the extent that he wanted God to end his life?
Although some people act as if depression has only one cause, in Elijah's case we see this simply isn't true. You might come up with a different list than mine, but I've found 7 lessons about depression we can learn from Elijah's story:
Be careful what you listen to

. The onset of Elijah's melancholy can be traced to 1 Kings 19:2: "Then Jezebel sent a messenger to Elijah."  Every moment of every day, we are bombarded with messengers, aren't we? God is speaking. The devil is speaking. And we receive countless positive or negative messages through the people around us and diverse forms of media. Beware: The spirit of Jezebel is still speaking, my friend! And if we listen to that diabolical messenger, we'll inevitably become depressed, just like Elijah.

Avoid the tendency to go it alone

. Elijah made two mistakes that contributed to his downward spiral. First, he left his servant behind (v. 3). During the prophet's dark hours in the cave, no one was with him to cheer him up or offer helpful perspective. But an even worse problem was his disconnect from the God-fearing Israelites who could have been his allies: the "seven thousand in Israel, all whose knees have not bowed to Baal" (v. 16). It's depressing to feel all alone in a daunting mission—but sometimes we just need to connect with those who would happily be our comrades.

Recognize the physical factors influencing your state of mind

. Depression isn't just a spiritual or psychological condition. Often it's greatly influenced by factors that are physical or chemical in nature. If you study this chapter in detail, you'll see that Elijah was extremely fatigued, deprived of adequate sleep for several days. He also was dehydrated and lacking in nutrition until God sent an angel to give him water and food (vs. 5-8). On top of everything else, he had faced a period of great stress, which often results in adrenal exhaustion and other deficits in a person's body chemistry.

Assess whether you're in the right place

. Twice in this passage, God asks the prophet a fascinating question, "What are you doing here, Elijah?" (verses 9 & 13). If you're feeling depressed today, it's good to ask whether you're "out of position" in some way. Are you in a job or ministry where you don't fit? Are you remaining in the wrong city or country, when the Lord has been nudging you to move somewhere else? Are you staying in a toxic relationship, when you know you don't have God's peace?

Beware of the egotistical view that everything depends on you

. When you try to play God, you will inevitably become both exhausted and depressed. Elijah told the Lord, "I alone am left; and they seek to take my life" (v. 10). He knew there was a lot more work to be done in bringing repentance and national restoration to Israel, and he felt the job depended entirely on him! When we get stuck in that kind of overwhelming mindset, we need to pause and (1) cast our burdens on the Lord, and (2) recognize our need to team up with other people in order to fulfill the remaining mission.

Amid whirling circumstances and activities, make sure you don't lose touch with God's gentle whisper and still small voice

. While it's clear Elijah knew a lot about intimacy with God, it seems he slipped away from that intimacy amid the busyness of his life and ministry. Can you relate? In the midst of the busyness of "serving God," it's all too easy to neglect spending quality time with Him. In this case, the Lord showed Elijah "a great and strong wind…an earthquake…and a fire" (vs. 11-12), but the divine message came with His gentle whisper instead of any of these dramatic events. Ask yourself: Can you still hear the Lord's quiet voice when you're by yourself, or do you only feel His presence when the worship band is blaring?

Find hope in remembering your mission—or in finding a new one, if necessary

. Elijah had already accomplished a great deal. It was understandable to wonder if his life's mission had already been completed. But it's incredibly depressing when you no longer believe God still has an important purpose for your life. A major breakthrough in shedding his depression came when Elijah was recommissioned by the Lord with a new calling—to anoint some kings and "anoint Elisha as prophet in your place" (v. 15-16). Perhaps this is a message for you as well: It could be time to equip the next generation and train your replacement!
Action Steps
Most of us have faced a bout of serious depression at one time or another. Hey, if it could happen to Elijah, you and I certainly aren't immune.
However, you don't need to stay in the "cave" or the valley of despair. Learning the lessons from Elijah's story, you can believe God's promises and quit listening to the messengers of condemnation and defeat. You can learn to rely on the Lord and your comrades instead of carrying the entire load on your own shoulders.
It's also important to regularly monitor the physical factors you're dealing with. Are you getting enough sleep, exercise, hydration, and nutrition? Do you need to take steps to eliminate some of the stress in your life?
Perhaps it's time to ask yourself the "placement" question God asked Elijah. Are you in the right place…the right role…with the right people?
If, like Elijah, you've lost your sensitivity to the Lord's gentle whisper amid life's busyness, I pray you'll hear it once again. And when you do, don't be surprised if He reaffirms your calling—or gives you a whole new mission.
I'm praying your best days are still ahead!  

If you enjoyed this article, get free email updates!