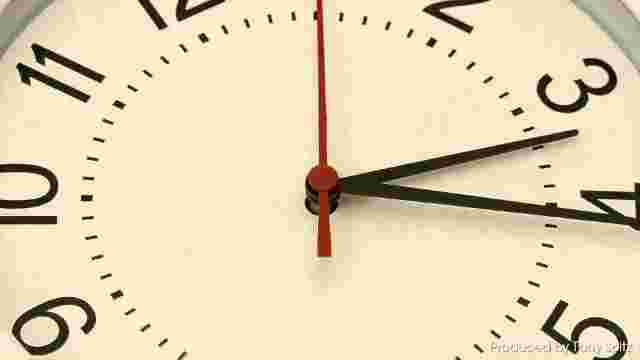 Most people hate Daylight Saving Time. So why do we still have it?
As the time changes once again, people will inevitably lose sleep and be grumpier than usual. Researchers point out that DST disrupts our body's circadian rhythm, creating an effect similar to jet lag. Studies have shown an increase in traffic accidents, workplace injuries, depression, suicides, strokes, and heart attacks immediately following a time change. Yikes!
But as much as I dislike Daylight Saving Time, I have to admit that God Himself sometimes uses it to accomplish His purposes. For example, one day Israel needed more time to complete its victory over enemy armies:
On the day the Lord gave the Israelites victory over the Amorites, Joshua prayed to the Lord in front of all the people of Israel. He said,
"Let the sun stand still over Gibeon,
and the moon over the valley of Aijalon."
So the sun stood still and the moon stayed in place until the nation of Israel had defeated its enemies (Joshua 10:12-13 NLT).
In this case, the time apparently didn't "fall back" only one hour. For an entire day, "the sun stayed in the middle of the sky, and it did not set as on a normal day" (v. 13). During the entire time, God was mightily at work on His people's behalf: "Surely the Lord fought for Israel that day!" (v. 14).
There are some very encouraging principles contained in this brief account – lessons so powerful that I'm almost reconsidering my hatred of Daylight Saving Time:
God wants us to pray BOLD prayers. Lately I've found myself praying only timid, trivial prayers, as if not wanting to ask anything that might be too difficult for the Lord to answer. No wonder God has to challenge us from time to time, "Is there anything too hard for Me?" (Jeremiah 32:27). Be audacious in what you ask Him!
When we feel like time is running out, God can graciously give us a reprieve. This point is very personal to me. I have an ambitious list of things I want to accomplish before I die, and I'm not sure how much time is left on the clock. Just as Joshua needed additional time to finish his assignment, sometimes we find ourselves in a similar predicament. This happened one day when King Hezekiah was on his sickbed, but cried out to the Lord for more time. In a scene similar to Joshua 10, God replied, "I will bring the shadow on the sundial…ten degrees backward" (Isaiah 38:8). Wow! God literally turned back time for Hezekiah, giving him another 15 years of life.
We must not use God's grace as an excuse for procrastination or laziness. Yes, more time was granted to Joshua and Hezekiah. But that doesn't mean we can count on God to miraculously intervene and give us more time if we're unfaithful in doing our part. These were exceptional miracles, after all, not occurrences that happen every day: "There has never been a day like this one before or since, when the Lord answered such a prayer" (Joshua 10:14 NLT). Recently a doctor told me I seemed lackadaisical about my health. He perceived that I was hoping he or the Lord would do some medical miracles for me, even though I wasn't committed to my own end of the bargain. What a lesson: We can stand upon God's promises much more confidently after we've first "done all" that we can do (Ephesians 6:13).
These Biblical examples might not be sufficient to make you a fan of Daylight Saving Time. But isn't it good to know that God can help you save some of the "daylight" remaining in your life? You may not need the sun to stand still, but He can give you a new lease on life to fulfill your incomplete assignments.
If you enjoyed this article, get free email updates!