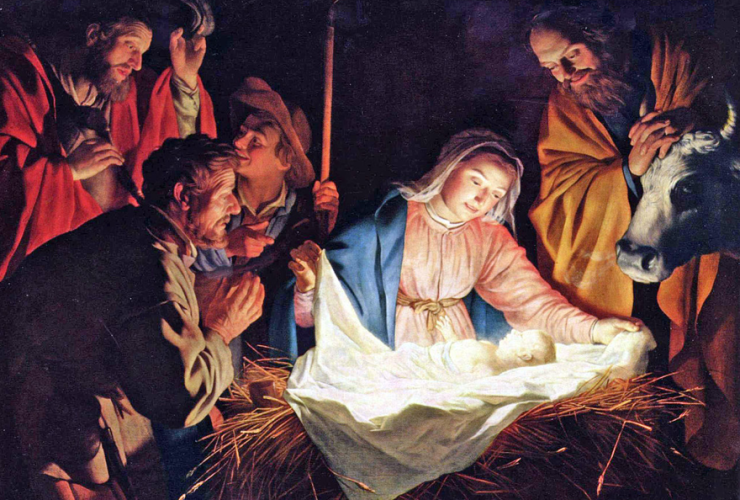 7 Life-Changing Christmas Facts in the First Chapter of John
When we think about the Christmas story, we usually start with the Gospel of Luke and Gospel of Matthew. There we see the shepherds, the magi, and the angel Gabriel's stunning declaration to Mary. Other colorful characters appear, including Elizabeth and Zacharias, Simeon and Anna.
But John's Gospel presents the rest of the story. As the final of the four Gospel accounts, it reveals the deeper meaning of the events in Bethlehem that first Christmas.
In the first chapter of John, we see 7 important facts about the true meaning of Christmas…
Christmas is about eternity, not just about Bethlehem.
In the beginning was the Word, and the Word was with God, and the Word was God. 2 He was in the beginning with God. 3 All things were made through Him, and without Him nothing was made that was made.
You see, Christmas didn't start with Gabriel's appearance to Mary or with the manger scene. The Son of God stepped out of eternity as "the Lamb slain from the foundation of the world" (Revelation 13:8). Numerous Old Testament prophecies were fulfilled by Him, and these amazing predictions came through several different people over the course of five centuries from 1000 to 500 BC. Twenty-four specific prophecies were fulfilled in just the 24 hours before Jesus' death.
Just as your Heavenly Father could look down through the centuries and foresee the details of Jesus' life, nothing in your life is catching Him by surprise. The same God who fulfilled His promises in intricate detail in the life of His Son Jesus will be faithful to fulfill every promise of His Word for YOU today!
Christmas has been under attack since its inception, but Jesus and His message are invincible, destined to prevail.
4 In Him was life, and the life was the light of men. 5 And the light shines in the darkness, and the darkness did not [overcome] it.
King Herod massacred babies in an attempt to eliminate the newborn King (Matthew 2:16-18). Throughout history, others have tried to diminish the memory or message of the Messiah.
But John's Gospel points out the wonderful fact that darkness is powerless to overcome the light. That's very good news if you are facing some kind of darkness in your  life today.
Although we love the Christmas stories about Mary and Joseph, the shepherds, and the magi (people who loved Jesus), many people either were unaware of Jesus' coming or else completely rejected Him.
10 He was in the world, and the world was made through Him, and the world did not know Him. 11 He came to His own, and His own did not receive Him.
Even today, there still are billions of people in the world who have never heard the name of Jesus even once. Others know about Him, but have rejected His message.
Instead of being offended by this rejection or taking it personally, we should be motivated all the more to proclaim the name of Jesus, the only One who can save humanity from their sins (Matthew 1:21).
Christmas ultimately is not just about a baby born in a manager; it's about His power to give a new birth to anyone who receives Him as Lord and Savior.
12 But as many as received Him, to them He gave the right to become children of God, to those who believe in His name: 13 who were born, not of blood, nor of the will of the flesh, nor of the will of man, but of God.
As C.S. Lewis well said, "The Son of God became a man to enable men to become sons of God." Our physical birth is not enough, Jesus told religious leader Nicodemus. We must receive a spiritual birth too, being "born again" in order to see and enter God's kingdom (John 3:1-7).
Christmas is the story of Immanuel, "God with us" (Matthew 1:23, Isaiah 7:14), and His presence is always characterized by both grace and truth.
14 And the Word became flesh and dwelt among us, and we beheld His glory, the glory as of the only begotten of the Father, full of grace and truth.
God loved the world so much that He didn't just send a letter, a postcard, an email, or an Instagram. He became flesh, personally stepping into our world.
In contrast to the example of many of His followers today, Jesus was full of BOTH grace and truth. This is a great reminder that we're called to speak the truth in love (Ephesians 4:15)—never shrinking back from sharing the truth, but always communicating it with grace.
Christmas would be a meaningless event if it hadn't been for Jesus' death and resurrection.
29 The next day John saw Jesus coming toward him, and said, "Behold! The Lamb of God who takes away the sin of the world!"
The baby in Bethlehem grew up! John the Baptist accurately discerned His calling as God's sacrificial Lamb—the Savior who was born to die (Isaiah 53).
Christmas illustrates the promise of an open heaven, with God not only sending His Son, but also every other blessing we need (Ephesians 1:3, Philippians 4:19).
49 Nathanael answered and said to Him, "Rabbi, You are the Son of God! You are the King of Israel!" 50 Jesus answered and said to him, "Most assuredly, I say to you, hereafter you shall see heaven open, and the angels of God ascending and descending upon the Son of Man."
Jesus was referring to Jacob's vision of an open heaven, with a ladder between the heavenly and earthly realms (Genesis 28). As John's Gospel unfolds, we're told clearly that Jesus Himself is the ladder or bridge to heaven, and there is no other pathway but Him (John 14:6).
Yet Christmas is about more than just getting people to heaven. Jesus also brought some of heaven down to US, and He told us to pray for heaven to be revealed through our own lives as well (Matthew 6:10).
Along with Jesus, we're privileged to receive everything else that's included in God's kingdom (Matthew 6:33). That's why Paul could say in Romans 8:32, "He who did not spare His own Son, but delivered Him up for us all, how shall He not with Him also freely give us ALL things?"
This Christmas, I hope you'll remember that the God who loved you enough to give you His Son will also hear your prayers and give you the other things you need in life. The next time you hear someone say, "Merry Christmas," keep in mind that it's not just about a historical event in Bethlehem. It's a transcendent reality meant to change your life today—and your future in eternity as well.
If you enjoyed this article, get free email updates!