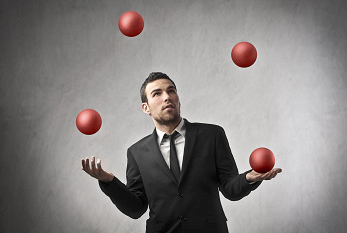 I have an exceptional ability to juggle lots of balls at the same time. I don't mean literal balls. My hand-and-eye coordination isn't good enough for that. But, better than most people, I'm able to successfully juggle multiple projects, activities, and relationships.
Many of my best friends are only able to focus on one project at a time. Sometimes I envy them, for being a good juggler is both a blessing and a curse.
Almost anyone can successfully juggle one ball from hand to hand. And with a little practice, most people can handle two or three balls. Juggling four or five balls is far more difficult, though. Even if you can juggle four or five balls for a short period, the problem is sustainability.
I've found that when you're a good juggler, people keep giving you more balls. It's not really their fault, but your boss, spouse, kids, and friends seem to think your capacity is unlimited. So you go from juggling one ball…to two…to three…to four. And everything goes splendidly at first.
Yet when you're a good juggler, you inevitably end up with one more ball than you can handle. Sadly, you seldom see how hazardous this progression is—not until ALL the balls end up on the floor.
Those of us who are good jugglers typically end up juggling many of the wrong  balls. We have a hard time saying NO. Instead of prioritizing and focusing, we try convincing people of our nearly superhuman abilities.
There's an old gospel song that says, "He's got the whole world in His hands." The challenge for good jugglers is that we often forget Who this song is referring to. God is able to simultaneously juggle all the balls in the universe—but we're not God.
If you're a good juggler like me, my heart goes out to you. As the Scriptures advise, I hope you'll learn to cast your cares on the Lord, remembering that He's the only limitless juggler. May you regularly seek His wisdom on which balls are meant for you, and which ones aren't.
If you've taken on too many balls, running the risk of dropping them all, I pray you'll recognize your precarious situation before it's too late. In the end, you'll be far more productive—and much happier—if you focus on your true calling. That's where you'll find God's grace and strength.
If you enjoyed this article, get free email updates!