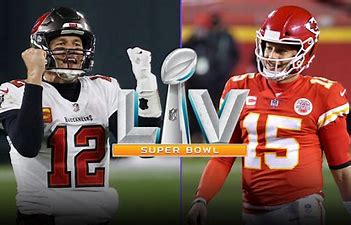 Today it's easy to see the greatness of NFL quarterbacks Tom Brady and Patrick Mahomes. But it wasn't always that way.
As Brady and Mahomes match up in this year's Super Bowl, even those who aren't football fans can learn an important lesson from their fascinating history. Brady is widely heralded as the G.O.A.T. (greatest quarterback of all time), and Mahomes has made people wonder if he's destined to be the new G.O.A.T. in the years ahead.
But it's stunning that those evaluating Brady and Mahomes in their earlier years often didn't recognize their potential for greatness. I'm grieved by how this applies to my own life, because I haven't always realized the hidden greatness of the people around me. Too often, I've seen people according to their outward appearance or past performance, not realizing that God was grooming a future MVP.
This is the 55th Super Bowl, and Brady has already played in 10. That's an astounding accomplishment, far surpassing any other quarterback in NFL history. Everyone recognizes his greatness today, but there was no guarantee he would reach this level of success.
You see, NFL scouts didn't expect much of Brady after his graduation from the University of Michigan. He wasn't selected by the Patriots until the sixth round of the 2000 NFL draft. He was just the199th overall pick and only the seventh quarterback taken.
Chad Pennington was the first quarterback selected that year, and he retired after 11 mostly lackluster seasons. Other quarterbacks chosen before Brady include such forgotten names as Giovanni Carmazzi, Tee Martin, and Spergon Wynn.
The highly paid NFL scouts were clearly misguided in their evaluation of quarterbacks that year. No one seemed to guess that a G.O.A.T. was lurking among the draft picks. And while I doubt if any other players from the 2000 draft are even in the league today, Tom Brady is still going strong at age 43.
Yet it's important to acknowledge that Brady didn't set the NFL on fire during his first season. In fact, he began his illustrious career as only the Patriots' fourth-string quarterback. He completed just one pass his rookie season – for only six yards. Nobody could have anticipated the greatness he would later display.
By the next season, Brady had become the second-string quarterback, sitting on the bench behind starter Drew Bledsoe. When Bledsoe got injured early in the season, Brady entered the game and became the Patriots' starting quarterback for the next 20 years.
Success didn't happen for him right away. But when his opportunity came, Brady's greatness was revealed.
Mahomes
Although Patrick Mahomes entered the NFL greeted with higher expectations than Brady, NFLDraftScout.com rated him as just the fourth best quarterback that year. In 2017 he was selected by the Kansas City Chief in the first round, 10th overall. The Buffalo Bills had given the Chiefs this pick in exchange for the Chiefs' first round pick in the 2018 NFL draft.
Yes, the Bills could have drafted Mahomes if they had recognized his greatness. And Chicago Bears fans are no doubt distraught that their team chose quarterback Mitch Trubisky as the second overall pick. While Trubisky has proven to be a disappointment, they could have had Mahomes.
Once again, the scouts got it wrong. Instead of signing MVP Patrick, the Bears ended up with mediocre Mitch.
I could go on and on with these football illustrations. Hall of Fame quarterback Brett Favre was drafted by the Atlanta Falcons in the second round of the 1991 NFL draft with the 33rd pick. However, Atlanta head coach Jerry Glanville disapproved of the selection and declared that Favre would never be successful in the NFL.
Admittedly, Favre got off to a poor start. His first pass in a regular season NFL game resulted in an interception returned for a touchdown. In his only season with Atlanta, just one of his four passes was completed, and two resulted in interceptions. His only other snap resulted in a sack for an 11-yard loss.
While Favre's greatness was never revealed amid the naysayers in Atlanta, things went much better after he was traded to the Green Bay Packers. He played there for 16 seasons, winning a Super Bowl and several MVP awards.
Judging by Outward Appearance
Two of the best NFL quarterbacks in more recent years have been Drew Brees and Russell Wilson, though both had been considered by some to be too short. The detractors pointed out that Brees is only six feet tall and Wilson is just 5'11". What the critics overlooked is that both men have the heart of a champion.
The Bible includes similar stories. King Saul was tall and handsome, seemingly with all the attributes needed to be a great leader. But his reign ended in disaster when his heart turned away from the Lord.
The prophet Samuel was told that Saul's successor should be chosen from among the sons of Jesse. However, when Jesse gathered seven of his sons to meet with Samuel, he left out the youngest – David. The other sons were outwardly impressive, and Samuel thought one of them must surely be God's choice as the next king.
Fortunately, the prophet sought the Lord's direction rather than making an impulsive decision. God warned him: "The Lord doesn't see things the way you see them. People judge by outward appearance, but the Lord looks at the heart" (1 Samuel 16:7 NLT).
Armed with this vital principle, perhaps Samuel could have become a good NFL scout!
Paul's Error
The apostle Paul understood the necessity of seeing people with the eyes of Christ rather than according to outward behavior. "We have stopped evaluating others from a human point of view," he wrote (2 Corinthians 5:16 NLT).
But on at least one occasion, Paul seemed to violate his own precept. John Mark was a young believer who had gone with Paul and Barnabas on their first missionary journey. Partway through, he abandoned them and abruptly went home!
When Paul was about to depart on the next journey, Barnabas wanted to give John Mark another chance and take him with them again. Paul thought this was surely a crazy idea. Why would they want to take the guy who deserted them on their last trip?
Their disagreement was so fierce that Paul and Barnabas split up, with Barnabas taking John Mark and Paul taking Silas (Acts 15:16-40). Barnabas saw John Mark through the eyes of grace, while Paul treated him as his past behavior deserved.
Although you could make a case for who was "right" in this dispute, a few observations can be made. Toward the end of Paul's ministry, he wrote to Timothy of his appreciation for John Mark: "Bring Mark with you when you come, for he will be helpful to me in my ministry" (2 Timothy 4:11 NLT). The aged apostle had changed his tune!
An even more important observation is that John Mark is widely believed to have been the author of the Gospel of Mark. We can only imagine how different his life might have turned out if Barnabas hadn't reached out to express confidence in him.
What About You and Me?
My friend, I hope you see that this blog is about more than misguided NFL scouts, how to select a king, or whether to extend mercy to someone who let us down in the past. It's about whether you and I, on a daily basis, can see with the eyes of Jesus and recognize the greatness God has put in the people around us.
If we can't see beyond people's outward appearance or their past failures, we will miss some great opportunities to transform lives. Perhaps we'll encounter a future Brady, Mahomes, King David, or John Mark today, and it would be sad to miss our chance to give them encouragement and affirmation.
Our words are powerful! In every relationship, we must choose to either impart vision and hope, or to be one of countless naysayers. Let's pray we'll be able to recognize the greatness God has put in the people we meet today.