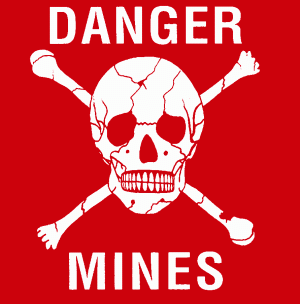 My friend Ron is a divorced man in his 50s who has ventured into the world of online dating the past few years. He's a good man who sincerely would like to find a new wife. But although he's met a number of good prospects, each new relationship has exploded after a month or two, often suddenly and unexpectedly.
Ron typically explains the breakup in terms of "overemotional" or "hypersensitive" women. "They all say on their online profile that they're baggage-free and drama-free," he tells me with a grimace, "but they all have issues. They're either kidding themselves or outright lying."
Hmmm…interesting that guys always think it's the women who have all the baggage.
While pondering Ron's puzzling experiences, I remembered a news report I saw on the problem of land mines in Cambodia and Vietnam. Although the wars there ended decades ago, numerous land mines still remain, maiming and killing many innocent people each year.
The more I thought about these hazardous military land mines, the more I understood about the emotional land mines contributing to Ron's situation.
A land mine is defined as "an explosive charge concealed just under the surface of the ground, designed to be detonated by pressure." A minefield typically looks like an ordinary, harmless piece of land. It's only when pressure is applied that the hidden mines are detonated, usually by completely innocent people who've unwittingly entered the danger zone.
So why haven't all the unexploded bombs in Southeast Asia been removed by this time? Unfortunately, the people who laid the mines have often forgotten where they are. It's a slow process to detect the unexploded mines with metal detectors or other devices, and great care must be taken not to unintentionally detonate the bombs while attempting to remove them.
Poor Ron, I thought to myself as I understood what had been happening. And even worse, I felt extremely sorry for the women he had dated. None of them deserved any of this.
But here are the sad facts about emotional minefields…
Just as the unexploded mines in Cambodia and Vietnam are the result of wars occurring 30, 40, or 50 years ago, we've all sustained emotional scars as we've walked through life. Many of them happened during our childhood, sometimes so early that we don't even consciously remember the event. Other scars happened in our teen years or through shrapnel from a failed marriage.
Just like military land mines, our emotional land mines are detonated by pressure. At times the pressure comes through something like a health crisis, lost job, or financial setback. But as in Ron's case, emotional land mines are frequently ignited when a person embarks on a close personal relationship.
Usually everything seems fine in the early stage of a relationship. But greater intimacy brings greater pressure. Like a ticking time bomb, the relationship is destined for detonation unless it can successfully cross the minefield of unresolved issues of the past.
Nothing is more bewildering than to detonate a land mine. One minute you're walking innocently on a seemingly safe roadway, and the next minute you find yourself bleeding from an unforeseen explosion. You didn't anticipate it…didn't deserve it…but it happened anyway.
Although I've usually seen myself as an emotionally healthy person, I've been deeply jarred by Ron's story. I'm horrified by the thought that my emotional land mines could detonate unexpectedly, doing great damage to someone I care about.
If you're like Ron, hoping for a healthy new relationship, you should pray to find someone with lots of unconditional love. Why? Because land mines will inevitably be exposed in time. And to paraphrase 1 Peter 4:8, "Love covers a multitude of land mines."
Also take some time, as I've been doing recently, to let God search your heart and expose hidden scars and forgotten minefields. You owe this to yourself and to those you love. Don't let past wars and traumas sabotage the happiness of your present and future relationships.