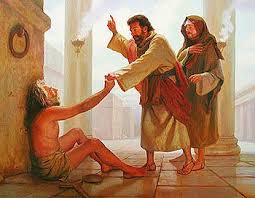 Recently a friend texted me and asked how my week was going.
"Uneventful!" was my reply.
My friend texted back and said that sometimes "uneventful" isn't such a bad thing. I guess he had a point, but in my case "uneventful" was pretty much equivalent to boring.
This got me thinking about one of my favorite stories in the Bible, the lame man who was healed in Acts 3:1-9. The chapter begins at three o'clock in the afternoon, as Peter and John are on their way into the Temple for a prayer meeting.
The part that intrigues me is that these mighty apostles had apparently had an uneventful day up until that point—and the day was more than half over.
If you're an old guy like me, there's a fantastic message of hope here. Even if things have been relatively uneventful in your life up until this point, a miracle from God might be right around the corner. Hey, the day isn't over yet, and you might be about to meet someone who would remain "crippled" without your prayers or encouragement. Perhaps it's a waitress, a gas station cashier, or someone next to your cubicle at work, but you encounter lots of people who need a miracle from heaven.
Yet we also have to face the fact that some days—or months or even years—are seemingly uneventful. Remember how Moses spent 40 years in the backside of the desert, taking care of his father-in-law's sheep? Life must have been pretty boring, to say the least.
Little did he know, but Moses was about to see a burning bush that would completely change the trajectory of his life (Exodus 3:1-22). In an amazingly short period of time, his life was rebooted—and he was 80 years old at the time!
When I view my uneventful life from the perspective of Acts 3 and Exodus 3, I realize a troubling fact: Often our lives are uneventful simply because we're not alert to the divine appointments God puts in our path.
Countless people passed by the lame man every day, but only Peter and John recognized that this was an opportunity for the Lord to perform a miraculous healing.
And God didn't address Moses from the burning bush until "the Lord saw that he turned aside to look" (v. 4). In other words, this pivotal event in the history of the Israelites might never have occurred if Moses had failed to pay attention to what he saw.
I'm convinced my life wouldn't be quite so uneventful if I was more sensitive to God-ordained opportunities along my path. Even when it's three o'clock in the afternoon, there's still time for a life-changing event to change everything.