From Jim Buchan & Crosslink Ministries
 Dear Friends:
2012 has been a fantastic year of new and old ministry ventures. Here are some highlights:
Inspiration magazine. As the senior staff writer at Inspiration Ministries, I continue to produce monthly devotional magazines sent to more than 135,000 households around the world each month, with an additional 26,000 daily devotionals sent via e-mail. You can sign up for the free daily devotionals at www.inspiration.org/dailydevotions.
Multiple booklets. This year I've also worked on various other projects at Inspiration, writing booklets such as The Turnaround Devotional, Changing Your World Through Prayer, Questions and Answers on Heaven, and a workbook for Ancient Secrets of the Tabernacle.
www.imagechurch.us/list-by-speaker/audio.
Ghostwriter and literary adviser. I've continued to enjoy many opportunities to serve as an adviser, agent, editor, or ghostwriter for Christian authors.
Twitter and Facebook. In May, I ventured into the Twitter world for the first time. My goal was to have 4,000 followers after a year, and I thought this goal was fairly ambitious. However, after just six months or so, I already have over 5,000 followers on my Twitter feed @BestBibleTweets. It has been fun embarking on a journey to tweet through highlights of the entire Bible, and the tweets are also posted on my Facebook wall.
Blogs. I launched a new blogsite at www.JimBuchan.com. Take a look at my posts there when you get a chance. My articles have been picked up by some other bloggers and by a magazine that has over 100,000 subscribers. Although I've been writing articles for decades now, I've never  had so many people read my articles in just one year!
ChurchSplits.com. At long last, my new, comprehensive manual on Church Splits is now available as an eBook at www.ChurchSplits.com. More than 8,000 people a month do a Google search for information on the topic of church splits, and this new website comes up FIRST! I believe the book and website will meet a huge need among pastors and churches. It's a unique resource on how to prevent, survive, and recover from church splits (lessons I've learned the hard way!).
Books and Music CDs to Afghanistan. Inspiration Ministries recently sent many boxes of spiritual resources to U.S. troops in Afghanistan, in order to be there before  Christmas. Crosslink donated a box of my leadership book, Walking the Leadership Highway—Without Becoming Roadkill! Mary donated some of her Christian music CDs, "Carry Me" and "Hidden Door." And our friends Dennis and Jen Clark added copies of their amazing booklet that helps people receive healing from Post-Traumatic Stress Disorder (PTSD). Pray with us that God will use these resources to touch lives in our military!
For several years, my central mission statement has been "To change the world through the written and spoken word."  Both of these two prongs came together in a wonderful way in 2012—with opportunities to touch live through my writings and also through a renewed "fire in my bones" to preach (Jeremiah 20:9).
I'll close with a word of encouragement and challenge to my fellow Baby Boomers, who may be wondering whether God still can revive their dreams and use them to impact lives. Let the prayer in Habakkuk 3:2 be the cry of our hearts today:
O Lord, revive Your work in the midst of the years! In the midst of the years make it known.
No matter how old you may be feeling today, you're just "in the midst of the years" — and your greatest years can be still ahead!
God bless you this New Year. Let us know how we can pray for you. We're grateful for your tax-deductible financial contributions to our Crosslink Ministries outreaches.
Note our new address:
Crosslink Ministries
11927 Royal Castle Ct, Charlotte, NC 28277
Cell: 704-770-5200, Jim@JimBuchan.com
www.JimBuchan.com @BestBibleTweets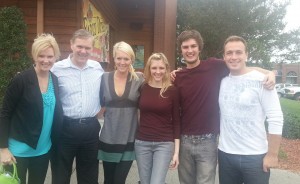 Merry Christmas from the Buchan & Stokas families!