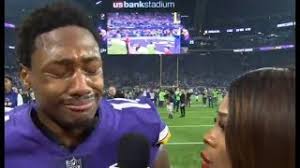 With four seconds left in the game and trailing the Saints, 24-23, Vikings quarterback Case Keenum lofted a desperation pass to Stefon Diggs near the New Orleans 35-yard line. After Diggs went high in the air to snag the pass, coaches yelled at him to get out of bounds so the Vikings could attempt a last-second field goal.
But Diggs disregarded his coaches. When no one tackled him, he decided to head for the end zone instead of going out of bounds. In one of the most amazing finishes in NFL playoff history, he went untouched to a 61-yard touchdown as time expired.
If you didn't see the play, you may want to check it out on YouTube.
After the game, Case Keenum said it was the third happiest day of his life – behind the day he gave his life to Jesus Christ and the day he married his wife.
Pretty cool…
Yet I was even more  struck by something Stefon Diggs said after the game, as he fought back tears of joy and disbelief. "My coach believed in me…my quarterback believed in me…and God believed in me,"  he explained.
I don't know much about Stefon's background. But reading between the lines, I wondered if he was implying that his coach, his quarterback, and God were the ONLY three who really believed in him!
Most of us have faced some naysayers along the way, and it's a powerful experience when you know someone truly believes in you.
That's why one of my favorite Bible verses is 2 Corinthians 7:16, where the apostle Paul writes, "I rejoice that I have confidence in you in everything."  Although most people have never given much thought to this verse, it contains a life-changing principle, especially when you realize who Paul was writing to.
You see, the Corinthians were his "problem church." Paul's letters reveal that they were seriously divided, with factions supporting various human leaders. They also argued about spiritual gifts, meat offered to idols, and even Jesus' resurrection. The squabbles were so intense that the Corinthians were taking each other to court before the city's secular magistrates.
Even the Lord's Supper had become a problem. While it was supposed to be a unifying practice in the church, it has become a travesty in Corinth, a total embarrassment. Meanwhile, the church was tolerating blatant immorality among its members, and no one was doing anything to confront the misdeeds.
If all this dysfunction wasn't enough, Paul realized that many of the Corinthians no longer respected his leadership – even though he had been used by God to bring them the Gospel.
How would you  handle a church like this?
Even though you or I may have been tempted to just knock the dust off our feet and have nothing further to do with the Corinthian believers, Paul had a quite different approach…
"I rejoice that I have confidence in you in everything."
Doesn't that sound ludicrous based on the condition of these wayward Christians? Well, yes, it sounds pretty crazy…unless you understand one of Paul's most important leadership secrets: His confidence in the Corinthians was based upon His confidence in the Lord.
"Such confidence we have through Christ TOWARD GOD"  (2 Corinthians 3:4 NASB).
Is there someone today you're struggling to have confidence in? Perhaps you've lost hope that anything will ever change with your spouse, a son or daughter, or someone in your church or workplace.
We've all come to that place at one time or another, losing hope that those around us will ever change. And to be honest, sometimes they don't  change.
However, the basis of Paul's secret was his confidence that God would answer his prayers and turn things around in the people and situations that concerned him. For example, immediately after telling the Philippians of his constant prayers for them, he made this beautiful declaration of confidence in how they would turn out:
"I am confident of this very thing, that He who began a good work in you will perfect it until the day of Christ Jesus"  (Philippians 1:6 NASB).
I can't help wondering where Stefon Diggs would be today if someone didn't believe in him. For that matter, where would you or I be if God hadn't sent friends and mentors to encourage us and believe in us?
Perhaps you're struggling today, feeling like no one expects you to succeed. Maybe your parents, your spouse, your children, your friends, or your boss have expressed their displeasure and their doubts – and perhaps you don't even believe in yourself.
If so, remember Paul's message to the Corinthians. While things didn't look very good on the surface, he bet on God to turn things around and complete the work He started.
Even with only four seconds left on the clock, with God's help you just might score the winning touchdown.