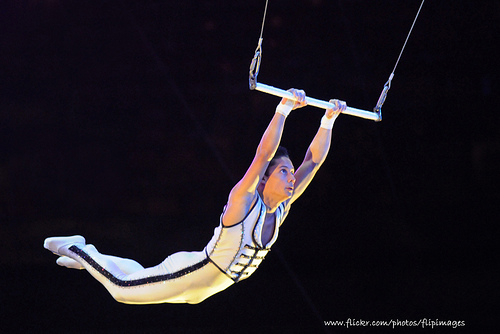 When you learned how to ride a bike, you probably fell down a few times. Hopefully, you got back on and tried again.
The same principle applies to many other things in life—such as relationships, careers, and ministries. You can't allow momentary failures or setbacks to keep you from picking yourself up and giving things another try.
At the same time, there's another principle to remember when you begin again: Usually there are some things you must let go of, even as you are reaching out toward new things ahead.
From time to time, I find myself humming an old tune, which seems an apt prophetic picture of where many of us find ourselves today:
He flies through the air with the greatest of ease,
The daring young man on the flying trapeze.
Just as a circus trapeze artist must let go of one trapeze and fly through the air until grabbing the next one, I've often found myself in a similar position—flying through the air in transition between the trapeze left behind and the one still to come.
Perhaps you can relate. You know you aren't where you used  to be, but you're not where we're going to be either. You find yourself flying swiftly through the air, on your way to a coming trapeze that's not yet entirely visible.
It must be an exhilarating experience for a trapeze artist to fly through the air like that. But I'm sure it's also terrifying to know the force of gravity will take its effect if the next trapeze doesn't soon come within reach.
This process of "letting go and moving on" is part of God's plan is to take us "from one degree of glory to another" (2 Corinthians 3:18). And while this process is exhilarating at times, it's easy to feel apprehensive when you have nothing to hang onto except the Lord Himself.
Experienced trapeze artists realize they dare not look down or they'll miss the next trapeze. Big mistake!
Fortunately, God's intention is not only to keep us from falling (Jude 1:24), but also to enable us to soar on eagles' wings (Isaiah 40:31). The next trapeze is not a demotion but part of the "upward call of God" (Philippians 3:14). He's taking us HIGHER!
If you've had some mishaps on the trapeze before, you may feel wary about getting back on. But despite the dangers, this is no time to play it safe. If you insist on clinging for dear life to your original trapeze, you are certain to make no progress at all. You'll only go higher when you exhibit the courage of "the daring young man" who defied gravity and reached upward.
Just as God challenged people in Bible days, He would say to us today: "Be strong and courageous! Do not be afraid or discouraged. For the Lord your God is with you wherever you go" (Joshua 1:9 NLT).
So go ahead and have courage to let go of the past. Press forward and let Him strengthen you for exciting new adventures on His flying trapeze.