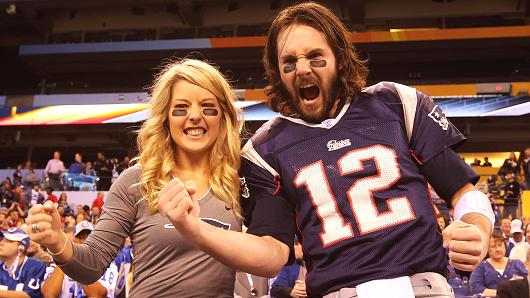 I grew up in the era of Cleveland Browns running back Jim Brown, and I'm convinced he was the best football player of all time. Yet I never had a Jim Brown jersey. In fact, except for the players who were actually on the team, I don't remember people wearing NFL jerseys back then.
From Boston to Houston this weekend, thousands of people will be wearing Tom Brady jerseys. Last year our hometown Carolina Panthers were in the Super Bowl, so Cam Newton jerseys were a big thing. Sadly, Cam didn't play so well in the Super Bowl—nor ever since, for that matter. His jersey sales have probably declined as a result.
Frankly, I don't really get the jersey thing. When someone wears a New England #12 jersey, everyone can tell it's not the real  Tom Brady. It's an impostor…a wannabe. No one is impressed by impersonators, nor is anyone fooled when you wear the jersey of your favorite sports star.
So what's the point of wearing someone else's jersey?
The Bible has some interesting examples of this principle…
King Saul tried to give David his armor to wear, but the young man realized the armor simply didn't fit. It was the king's  "jersey," not his own. So David decided to go against Goliath instead with his own armaments—a slingshot and five smooth stones. He explained to Saul that he preferred to use weapons he'd already tested in his own life, when defeating lions and bears (1 Samuel 17).
In another case, Jesus rebuked the believers in Sardis for not living up to the label on their jersey:  "I know your works, that you have a name that you are alive, but you are dead"  (Revelation 3:1).
You see, it's considered hypocrisy when you have a great name on your jersey, but your lifestyle doesn't match. Perhaps that's the true meaning of the 10 Commandments precept, "You shall not take the name of the Lord your God in vain" (Exodus 20:7). Instead of being a rule against profanity, perhaps the deeper meaning is that we shouldn't wear the Lord's name on our jersey if we're not committed to seeking His will.
Putting Jesus' name on your jersey is not something to do lightly. As the apostle Paul warned, "Everyone who names the name of the Lord must turn away from unrighteousness" (2 Timothy 2:19 HCSB).
Nevertheless, the Bible says that as believers we've "clothed" ourselves with Christ—we've willingly taken His name and put on His jersey (Galatians 3:27 NASB). And even though NFL jerseys are expensive, wearing the name of Jesus is certainly a much more expensive and courageous step than wearing Tom Brady's jersey.
There's something we desperately need in order to successfully wear the name of Christ. We must heed His offer to be clothed with "power from on high" (Luke 24:49 NASB). To live as true Christians, we must be anointed—like our Savior—with the power of the Holy Spirit.
Wearing Tom Brady's jersey will never enable you to become like him. But when you clothe yourself with Christ and the power of His Spirit, you'll increasingly be transformed into His likeness (Romans 8:29). That bodes well for winning your personal Super Bowl.