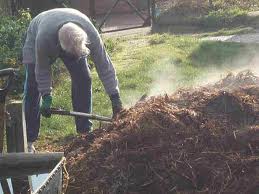 Several weeks ago I was feeling even more arrogant than usual. I had just published two new books – not as a ghostwriter this time, but under my own name. In a four-week period, I had also preached 10 times, more opportunities than I've had in any other month in recent years. In addition, I've been thrilled about several young Christian leaders God has given me to mentor.
Feeling rather proud of myself, I thought it might be a good time to fish for a compliment from the Lord.
"Father, why is it that I've become so fruitful in this advanced stage of my life?" I asked Him.
I guess I was expecting God to pat me on the back and thank me for my great faithfulness. Maybe He would commend me for my prayer life or my perseverance. Or perhaps He would even say, "I don't have many other servants as dependable as you, Jim!"
Well, God didn't tell me anything like that. Instead, He just showed me a picture, and it was a vivid picture indeed: In my mind's eye, I saw a farmer shoveling manure onto his beautiful, lush garden.
"Jim, you've become this fruitful because you're well fertilized!" was the Lord's only comment on my humbling vision.
If you're a millennial, you probably think fertilizer has always come from Miracle-Gro or Monsanto. But in the old days, the best thing for growing healthier crops was manure.
The Bible describes this principle in several places. In Luke 13:6-9, Jesus told a parable about what to do when you have a barren fig tree. Perhaps you've never had that exact problem, but it's likely you've faced some other kind of barrenness in your life at one point or another. The solution prescribed in this story was to "dig around it and put on manure" (v. 8 ESV).
Yes, manure really does have some benefits if you want to be more fruitful.
Since God showed me this word picture of "The Manure Effect," I've begun to see Paul's famous words in Philippians 3:3-10 quite differently. After listing all the things he could have boasted about, Paul wrote that he was counting all those things as "dung" (KJV), i.e., manure (Gk. skybalon).
Yes, the positive experiences in our lives are meant to provide fertilizer too – if we don't get puffed up in the process.
New Perspectives
If you grasp this deep revelation about The Manure Effect, you will see your past in a whole new way. If you've experienced trials and tribulations such as betrayals, divorces, business failures, job losses, bankruptcies, sicknesses, church splits, persecutions, or bouts of depression, the Bible says to "count it all joy" (James 1:2-4). That advice seems completely nonsensical unless you understand that such things can fertilize your future hopes and dreams.
Yes, every hardship is meant to provide valuable fertilizer for your future. So rejoice! Instead of grumbling about your past failures and difficulties, thank God that He's been fertilizing you for greater fruitfulness.
Manure stinks, but manure is inevitable. As the popular bumper sticker says, "Manure Happens!"
Yet instead of interpreting the manure in our lives as a sign of God's displeasure, we must realize that the opposite is true: Whoever the Lord loves, He fertilizes.
So I encourage you to pause and thank Him for sending some manure your way. Don't let it go to waste!