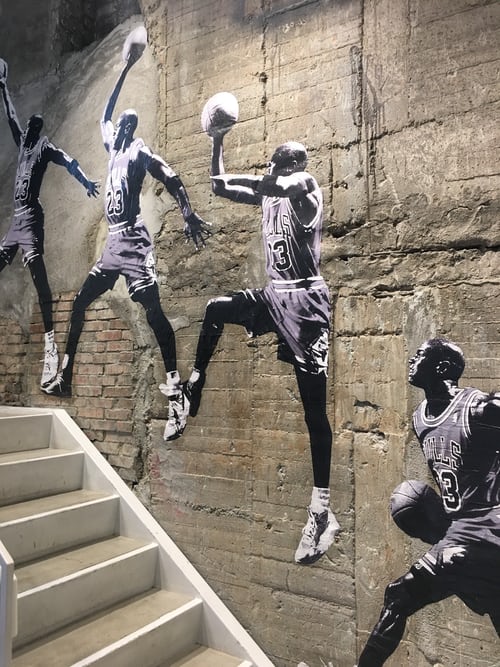 Without much going on in the sports world in recent months, many people have turned to ESPN's new series "The Last Dance," chronicling the Chicago Bulls NBA dynasty with Michael Jordan in the 1990s. The competition in those days was fierce, and it was an amazing feat for the Bulls to win six championships.
Jordan is often considered the best basketball player of all-time, and he was particularly impressive when big games were on the line. However, Jordan once made a stunning admission on a TV commercial:
"I've missed more than 9,000 shots in my career. I've lost more than 300 games. Twenty-six times I've been trusted to take the game-winning shot – and missed. I've failed over and over and over again in my life, and that is why I succeed."
Jordan's statement should prompt each of us to ask: When we look back at our life up until now, do we tend to focus on our failures or our successes?
You see, Michael Jordan missed a lot of shots and lost a lot of games during his career. Did that make him a failure? Obviously not. Yet missing the winning shot in a big game would have sent some players into a tailspin. They might have gone into a slump for several games, unable to shake the memory of their failure.
But Jordan learned to start each game with a clean slate. If anything, he used his past failures to motivate him even more toward future success.
Michael Jordan had actually learned to overcome failure several years before his NBA career began. Although I still find it hard to believe, he was cut from the basketball team at Laney High School in Wilmington, North Carolina.
Put yourself in his shoes at that point. If you can't even make your high school team, you might take it as a sign that you don't have a future in college or the NBA. But instead of giving up, Jordan worked hard to improve his game. The following year, he made the high school team, and he went on to play in college for the University of North Carolina Tarheels, coached by Dean Smith. Jordan made the game-winning jump shot in the 1982 national championship game against Georgetown, an accomplishment that greatly helped to spark his self-confidence.
Two other players were drafted in the NBA ahead of Jordan. Yet Jordan was the NBA rookie of the year in 1985, and soon his acrobatic dunks earned him the nickname "Air Jordan." He won an Olympic gold medal in 1992 as part of the American "Dream Team" and had already one a previous gold medal while in college.
Incredible success, don't you think? However, there also were painful losses – just as we all experience from time to time.
Notice this important lesson: No one, regardless of how gifted, ever becomes a great success in life without also experiencing some failures along the way. A person who is intent on never making a mistake will probably never make much of anything.
So the key is to learn from your mistakes, learning to shake off your failures and bounce back. In basketball terms, you have to forget about that last shot that you missed.
Bouncing Back from Failures
In my mid-20s I went on a date with a girl and ended up telling her much of my life story up until that point. Rather than being impressed, she told me, "You sure have failed a lot!"
Ouch. Sad to say, that was true. And I've failed many more times in the decades since then. Thankfully, I've also had many successes – all because I didn't give up along the way.
I've grown to love the apostle Paul's encouraging message about perseverance: "Let us not become weary in doing good, for at the proper time we will reap a harvest if we do not give up" (Galatians 6:9 NIV). Notice the "if" phrase here. A successful harvest of blessings is assured if we continue to sow good seeds and refuse to lose heart while we wait.
When I think of Michael Jordan's story – and my own – I remember the words of King Solomon: "Though the righteous fall seven times, they rise again" (Proverbs 24:16 NIV). This is great news if you're at a low point today. There's still time to rise again!
When I examine the lives of the Biblical heroes in the Hall of Fame of Faith in Hebrews 11, I see plenty of failure before their ultimate triumphs. But rather than focus on their defeats, they pressed on toward their destiny.
Like all of us, Paul had experienced both failures and successes in his past. Yet he realized that he'd make no progress by looking in his life's rearview mirror: "One thing I do, forgetting those things which are behind and reaching forward to those things which are ahead, I press toward the goal for the prize of the upward call of God in Christ Jesus" (Philippians 3:13-14).
My friend, I don't know what circumstances you find yourself in today. But whether your life seems great or it has hit rock bottom, this one thing is certain: God is calling you UPWARD!
Even with Michael Jordan on the team, the Chicago Bulls had many disappointing seasons before they experienced success. In the same way, make sure you're not allowing present disappointments to define your identity or hinder you from future blessings. If you don't give up, you can rise up and discover a great new season right around the corner.