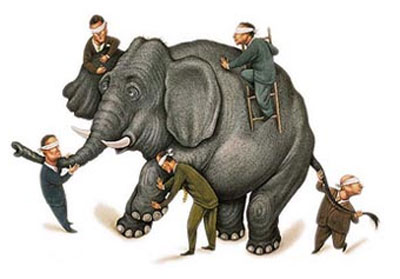 "Every truth has two sides; it is as well to look at both,
before we commit ourselves to either." – Aesop
I recently studied the life of the Old Testament prophet Daniel and discovered that he had lived under the reign of 10 different kings. That got me thinking about my own life…
It's embarrassing to admit, but I'm so old that I was born during the final years of Harry Truman's administration! Wow. That seems like ancient history.
Donald Trump will be the thirteenth American president in my lifetime. Some of our presidents have been good, some have been bad, but none have been perfect.
Somehow America has survived our very flawed leaders, and Daniel's story has helped give me perspective and hope for our future.
The people of Daniel's generation had no opportunity to vote on their leaders. Instead of being able to change the course of history through political campaigns, he had to trust that "[God] removes kings and raises up kings"—even rulers like Nebuchadnezzar, Belshazzar, Cyrus, and Darius (Daniel 2:21).
Rather than put his hope in any of these human leaders, Daniel took comfort in an entirely different kingdom. Even though he was greatly alarmed by events on earth at times, he came to see that "the Ancient of Days" would ultimately sit on the throne of heaven, ruling over an everlasting kingdom (Daniel 7:9-27).
Seeing the Big Picture
Our perspective on America's recent election could profit from lessons in this famous poem by John Godfrey Saxe (1816-1887):
It was six men of Indostan
To learning much inclined,
Who went to see the Elephant
(Though all of them were blind),
That each by observation
Might satisfy his mind.
The First approached the Elephant,
And happening to fall
Against his broad and sturdy side,
At once began to bawl:
"God bless me! but the Elephant
Is very like a WALL!"
The Second, feeling of the tusk,
Cried, "Ho, what have we here,
So very round and smooth and sharp?
To me 'tis mighty clear
This wonder of an Elephant
Is very like a SPEAR!"
The Third approached the animal,
And happening to take
The squirming trunk within his hands,
Thus boldly up and spake:
"I see," quoth he, "the Elephant
Is very like a SNAKE!"
The Fourth reached out an eager hand,
And felt about the knee
"What most this wondrous beast is like
Is mighty plain," quoth he:
"Tis clear enough the Elephant
Is very like a TREE!"
The Fifth, who chanced to touch the ear,
Said: "E'en the blindest man
Can tell what this resembles most;
Deny the fact who can,
This marvel of an Elephant
Is very like a FAN!"
The Sixth no sooner had begun
About the beast to grope,
Than seizing on the swinging tail
That fell within his scope,
"I see," quoth he, "the Elephant
Is very like a ROPE!"
And so these men of Indostan
Disputed loud and long,
Each in his own opinion
Exceeding stiff and strong,
Though each was partly in the right,
And all were in the wrong!
It's no wonder this story has spread across the world in various versions. People find it fascinating that each of these men could be both right and wrong at the same time. They were correct about what they perceived, yet each of them had perceptions that were incomplete.
We see this principle at work all the time, both in politics and in the church. People tend to feel very certain about what they have experienced, and rightfully so. Those from minority groups are more likely to have experienced racial prejudice, and that is very real to them. Meanwhile, those in the white majority often have a hard time believing that racial discrimination is still much of a problem a full century and a half after the Emancipation Proclamation.
We all have a limited view of the "elephants" in the room, don't we? Smug about what we think we "know," we don't recognize that we can be right and wrong at the same time. As a result, we tend to adopt half truths, not realizing that the other half may be in error.
Unless we keep this principle in mind, we'll be much too prone to attribute nearly messianic qualities to our preferred political leaders, willfully blind to their flaws. If you're an American, I hope you voted in the recent election. But I also hope you did so prayerfully and with your eyes wide open.
God is the only One who sees the whole picture. Yes, we can experience more and more of the Lord as we read His Word and draw near to Him in prayer. But nevertheless, the Bible says, "we know in part and we prophecy in part" (1 Corinthians 13:9). In eternity, we will have a much fuller view of the elephant, but "now we see in a mirror, dimly" (1 Corinthians 13:12).
Although the fog of human events may often obscure this fact, someone is still seated on heaven's throne (Revelation 4:1-2). We'll find great solace when we accept His invitation to "come up here" and take a look.