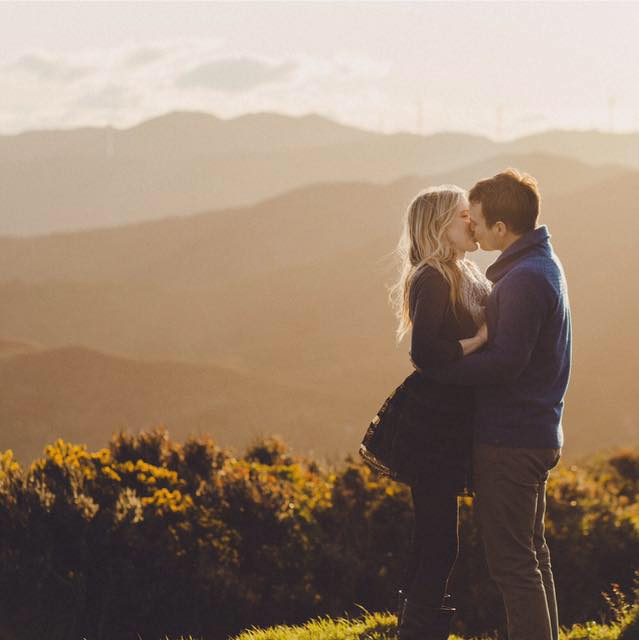 One week ago, my daughter Abbie married a wonderful New Zealander (Kiwi) named Hamish McKoy. It was such a joy to be a part of their lovely wedding at a venue an hour and a half from Wellington, New Zealand.
Each of the Americans in attendance fell in love with the people of New Zealand and especially with Hamish's parents, John and Judy McKoy. It's a magical place over there, one I hope you can experience firsthand someday.
At the wedding reception I shared a few thoughts I've had about Hamish and Abbie's unfolding love story, which began 10 years ago when Abbie first visited New Zealand. Although there were many twists and turns in their relationship in the years after she returned to the U.S., God never allowed them to forget the brief time they spent together.
I don't know if you've looked at a globe of the earth recently, but New Zealand is a LONG way from America. I took about 25 hours of flying for me to get there from Charlotte, North Carolina, if that gives you some idea of what I'm talking about.
In thinking about how Hamish and Abbie overcame the huge distance between them, I remember five powerful words in Scripture: "Many waters cannot quench love" (Song of Solomon 8:7). Isn't that beautiful?
Solomon's words got me curious about how MUCH water there is between the U.S. and New Zealand. According to reliable sources (Google!) there are 187 quadrillion gallons of water in the Pacific Ocean—and yet all that water could not quench the love of Hamish and Abbie.
More stunning than that, the Bible says Jesus left the grandeur of heaven to bridge an even greater chasm, the one between God and humanity. His love could not be quenched. Nothing could stand in His way. Love did indeed win when He came and died for us on the cross.
I hope you have experienced that amazing love…
Lately I've also been reflecting on another love story—the Disney tale about Cinderella. I'm especially moved by how the Prince searched throughout the land to find the person who fit the glass slipper he'd found at the ball.
Why does this story resonate so deeply with us? I believe the glass slipper illustrates three things we're each craving in life:
A person (a prince or princess to share our lives with)
A place (somewhere to call home, like Abbie and Hamish have found in their community of friends and family in New Zealand)
A purpose (a sense of calling, confident that we're fulfilling God's plan for our lives)
As I reflect on last week's Kiwi wedding, this is my prayer for YOU: May you find the Lord's special person, place, and purpose. This doesn't mean your life will always be easy or pain-free. But it can be AWESOME nevertheless.
Don't settle for a boring, purposeless life, my friend. Your glass slipper awaits. Your Prince wants to give you a life that is magical and filled with wonder. Something like a fairy tale.