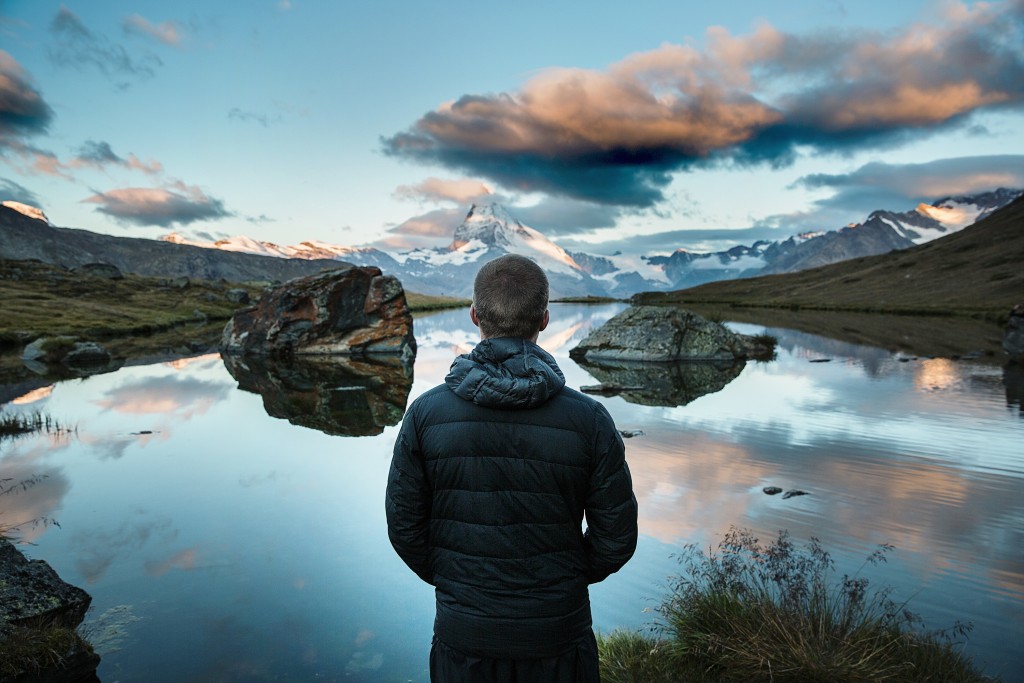 An important attribute for having a happy and successful life is the ability to make smooth transitions. Why? Because transitions are one of the most inescapable features of life.
Instead of remaining a baby, we transition to childhood. After childhood, we encounter numerous changes as we shift into our teen years. After that, we're invited to mature into an adult…a senior citizen…and, after we die, a citizen of eternity.
There are many other transitions along the way, and they're never stress-free.
While it may be exhilarating to go from singlehood to matrimony, the transition isn't easy. And sometimes the marriage ends, either because of the spouse's death or an unwanted divorce, requiring a whole new transition.
You probably have experienced numerous other transitions. Perhaps you've been downsized at work and have bounced from job to job. Or maybe you're navigating the opportunities and perils of retirement. Or perhaps you've come to point of losing your independence to assisted living.
Each transition has its own unique challenges. Although we sometimes go kicking and screaming into the next phase of life, there's no way to keep things the same forever. Like it or not, we must keep moving on in our journey.
Enoch's Amazing Story
Recently I found myself thinking about the remarkable transition made by a famous man in the Bible: "Enoch walked with God; and he was not, for God took him" (Genesis 5:24).
The Good News Translation says, "He spent his life in fellowship with God, and then he disappeared." And The Message paraphrase explains that after he "walked steadily with God…one day he was simply gone: God took him."
Even though we're not given much additional information about Enoch's startling transition, the New Testament puts him in the Hall of Fame of Faith: "It was by faith that Enoch was taken up to heaven without dying – 'he disappeared, because God took him.' For before he was taken up, he was known as a person who pleased God" (Hebrews 11:5 NLT).
Most people just get old and die, but Enoch was snatched off the earth seemingly in the prime of his life. No reason is given, except that God chose to take him.
Despite the sketchy details of how this happened, Enoch's story can teach us some very important lessons about handling life's transitions:
As much as possible, prepare yourself for the transition.
Enoch was as ready as he could be for his sudden departure. He had walked closely and consistently with the Lord, lived a life of faith, and maintained a reputation as someone who pleased God. Perhaps his abrupt passage into heaven could be explained by the fact that he had passed the tests of his earthly sojourn and was now ready to advance to the next phase of his journey.
Nothing prepares us better for heaven than to faithfully serve God's purposes while on the earth. You've probably met people who are living for the devil today, yet plan to give their lives to Jesus on their deathbed. Bad idea! Today is the day of salvation, and if someone hardens their heart now, they're unlikely to repent "just in time" for heaven.
But Enoch's story isn't just about "getting to heaven." Instead, it illustrates that the line between heaven and earth is actually a lot thinner than we may have thought. Enoch was already experiencing a certain amount of heaven in his daily relationship with the Lord, having so much fun that eternity probably seemed like an unexpected bonus.
Did Enoch experience any trials and tribulations along the way? Undoubtedly so. However, nothing prepares us better for the unexpected catastrophes of life than to follow his example of already having a firm foundation of trusting and obeying the Lord (Matthew 7:24-27).
His example also encourages us to avoid spiritual stagnation or getting "stuck" somewhere in our journey. The description of Enoch "walking with God" implies motion – a life of continual growth and progress. Sometimes Christians focus so much on their "new birth" experience that they fail to do what's necessary to keep developing in their faith. In contrast, Enoch was growing in intimacy with God right up to the time his earthly life ended.
In recent years, I've been intrigued by the "suddenlies" mentioned in the Bible – stories about God giving people a dramatic breakthrough in a moment of time. Enoch certainly experienced one of these "suddenly" moments when the Lord unexpectedly snatched him from the earth. But notice: Years of preparation occurred before this breakthrough moment. Enoch had willingly undertaken the slow, steady process of walking with God before his sudden transition to the gates of heaven.
This is such a great lesson for us. If we're hoping for a supernatural breakthrough in our health, finances, emotions, or family, God may require us to patiently prepare our hearts and take small steps of faith before the miracle happens.
Experience the next phase in advance.
To the watching world, Enoch's sudden translation into heaven probably seemed to come "out of the blue" and without warning. He was just out taking a walk, after all! He wasn't even sick when God decided to take him.
However, maybe the transition wasn't nearly as sudden as it seemed. Reading between the lines, it's apparent that Enoch had already tasted of heaven during his daily walks with God. You see, even in this present life, we can experience "the powers of the age to come" (Hebrews 6:5).
Once again, the story provides a principle about transitions. Before the day when we enter fully into the portals of heaven, we can have heavenly encounters with the supernatural realm. Remember the ladder between heaven and earth that Jacob saw in Genesis 28?
It's also interesting that the Israelites tasted some of the fruit of the Promised Land before actually entering into their inheritance there (Numbers 13:20).
So let's get practical in applying this lesson to life's transitions:
If you're getting ready to be married, you're wise to spend time being mentored by those who already have strong marriages.
If you're about to become a parent, it's important to learn from others who've successfully raised their children.
If you're planning to launch your first business, it's vital to spend time with entrepreneurs who have displayed wisdom in building their own company.
If you sense God calling you into some role of ministry, it's smart to find others who are already functioning in that same calling.
If you're getting ready to retire, there's much you can learn from those who have already successfully made that transition.
The point is this: Before you transition into a new chapter of life, you should do the best you can to get a taste of that next phase in advance.
Let go of your present circumstances so you can embrace the upcoming stage of your journey.
While we don't know much about Enoch's circumstances, it was clearly necessary for him to let go of his earthly life in order to move forward into his heavenly life. I've always loved the analogy of a trapeze artist, who must let go of one trapeze in order to transition to the next. But although it may be exhilarating to watch a trapeze artist, the process is much more hazardous than it looks.
Yes, people often cheer when a preacher says, "God is doing a NEW thing!" But let's get real: Most of the time, we would prefer to hang on to the familiar and the comfortable. Moving into unfamiliar territory is usually frightening, and perhaps that's why God warned the Israelites, "You have not passed this way before" (Joshua 3:4).
Years ago, I experienced a stunning example of this requirement to "let go" in order to experience God's next assignment. My Grandpa Fraggiotti had congestive heart failure and eventually passed into a deep coma. This went on for a number of days, and there was no change in his condition. We sensed that, out of sheer determination, he was fighting to stay alive. Perhaps this was caused by fear of the unknown, or maybe he simply didn't want to leave his loved ones.
Even though he was unconscious, we decided to share with him some comforting words about the transition he was about to make. We reminded him of God's love and of the fact that he had publically given his life to Christ many years before. We also assured him of our love and of our confidence that we would one day all be together with him in heaven.
Surprisingly, within about an hour of our "conversation" with Grandpa, he simply quit breathing. After many days of fighting to hang on to life, he peacefully relinquished himself to God (Luke 23:46).
You probably aren't yet facing a crossroads like Grandpa Fraggiotti was that day. However, his story beautifully illustrates the necessity of letting go before you can move on. This principle applies not only when you're standing at death's door, but to every other transition along the way.
Pour your life into the next generation.
Many other people in Enoch's generation outlived him. From an earthy perspective, this may seem sad, or even unjust. Yet this shows that the real question is never the amount of years in our life, but rather the amount of life in years. To be honest, some people live lives that are so inconsequential that it's as if they never lived at all.
When you dig a little deeper into Enoch's story, you find that his son Methuselah lived longer than anyone else who ever lived! What a great lesson about raising up kids, grandkids, or other young people who can go much further in life than we ever could.
For example, remember how Elijah mentored Elisha? Although Elijah was an incredible man of God, the Bible records that twice as many miracles were performed by his protégé Elisha.
Likewise, Jesus made an astounding prediction about the impact His followers would have: "He who believes in Me, the works that I do he will do also; and greater works than these he will do, because I go to My Father (John 14:12).
At first glance, you may not see any connection between equipping the next generation and getting ready for your own transitions. But think about it: Until others are raised up to do what you are currently doing, it makes no sense for you to transition into some greater role. Preparing the next generation for success is a critical component in transitioning to the next phase of your journey.
Fear Not!
If you follow Enoch's four principles, transitions never again need to be a scary process. You'll be well prepared for each new step in your journey, confident that God is moving you "from one degree of glory to another" (2 Corinthians 3:18 ESV).
So go ahead and walk with God today and every day. If you do, your earthly life will be filled with "goodness and mercy," and someday you'll step into eternity – able to "dwell in the house of the Lord forever" (Psalm 23:6).