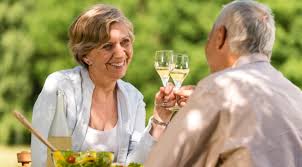 I've written before about my friend Ron's dating escapades. He's now in his 60s, and it's been quite eye-opening to reenter the world of dating after a marriage of over 30 years.
At the advice of his kids, Ron signed up for Match.com after his divorce was final a few years ago. There he quickly found a Christian woman named Sherry, whose favorite books were Rick Warren's Purpose Driven Life and Living Courageously by Joyce Meyer.
"This is my kind of woman!" Ron confidently told me before his coffee date with her at Panera Bread.
But things didn't exactly go as he had hoped. The first thing he noticed was that Sherry looked at least 10 years older than the pictures she had posted. Hmmm…pretty disappointing, he immediately thought.
However, Ron is a nice guy, and he decided to at least engage Sherry in some friendly conversation. After some small talk, he asked, "So, how long ago was your divorce?"
Ron thought this was a pretty easy, straightforward question. But her answer stunned him.
"Well, I've been married four times," Sherry informed him, "and for a while I also lived with a guy I wasn't married to."
Ron's jaw probably dropped at this point. But she went on to say she had eight children and fifteen grandkids, attributable to her various marriages and boyfriends.
Yikes, Ron was getting queasy. How did things go so amiss in his attempt to find a wholesome Christian woman? While the conversation was running its course, he couldn't help envisioning Thanksgiving dinner if he married Sherry. How would he be able to figure out "who's who" among the kids and grandkids—not to mention remembering who everyone's daddy is?
This was a rough start to his online dating experiences, no doubt. Yet Ron wasn't about to give up. He continued spending time on Match.com every day, trying to find suitable prospects for dating and eventual marriage.
Uncomfortable Encounters
Things didn't get any easier in the following months, though. One day he was having a nice phone conversation with a woman named Sarah, and they seemed to have some things in common. But he started getting uncomfortable when she mentioned her distress that her son was gay and had married his lover. Once again, Ron started envisioning Thanksgiving dinner, and he wasn't sure how he would respond to the family dynamics of Sarah's son and the guy he was married to.
Then he had another coffee date, this time with an attractive woman named Sheila. But her husband had died of HIV, her father had been shot to death and, once again, Ron felt there was just too much baggage for him handle.
Ron says one of his favorite dates was with a woman named Linda. She attended a good church and clearly had a strong relationship with the Lord. But the conversation took a difficult turn when she described her daughter's bipolar personality disorder and the incredible anguish it had caused her. Some days her daughter loved her, and other days her daughter hated her, making Linda's life miserable.
Another disappointing date occurred when Ron went out to dinner with a woman named Sarah. She had been a single mom for many years and was now agonizing that her 16-year-old son had become a neo-Nazi skinhead, hating Jews and believing all sorts of conspiracy theories. She had no idea how to convince the young man of his erroneous views—and neither did Ron.
5 Lessons
Eventually Ron had some relationships that were more than a one-time phone call, coffee date, or dinner. He says some of these were with very nice women, but he just couldn't see himself spending the rest of his life with them.
Recently Ron and I took time to review his dating experiences, hoping to glean lessons for others entering the dating scene in their 50s and 60s. Here are five lessons we came up with, but perhaps you can add some insights from your own experiences:
Dishonesty is rampant. While it's understandable to "put your best foot forward," it's sad there are so many outdated pictures and misleading online profiles. Also watch out for the out-and-out scams that target online daters. Despite your hopes for "love at first sight," be careful to verify that the person you're dating is who they say they are!
Baggage is rampant. Ron chuckled that many woman on Match.com describe themselves as "baggage free" and "drama free." What a joke. He concluded that it's virtually impossible to be a divorced person in your 50s or 60s without accumulating some baggage along the way.
Our OWN baggage is rampant. Like many men, Ron initially thought all the baggage was on the female  side of things. Yet after some painful breakups, he had to admit that his own baggage was often a large part of the problem. Just like landmines under the surface of the ground, he discovered emotional scars that were triggered in pressure situations and close relationships.
Sexual temptation is rampant. Ron was a virgin when he got married, but he admits that sexual abstinence is a lot harder these days. Perhaps this can be attributed to several factors: (1) Loneliness in being single after many years of marriage; (2) feeling like "time is running out" to have a close, intimate relationship; (3) the amazing willingness today of many women (even longtime Christian women) to engage in sexual activities with men they aren't married to.
Not everyone really wants to be married again. At the beginning of his online dating journey, Ron assumed anyone on Match.com or eHarmony was there in search of a marriage partner. Surprisingly, it turned out that many people were more interested in dating than marrying. Why so? Some are fearful. No one wants to enter into another unhappy marriage. And some prefer the freedom of not having to answer to anyone. Instead of being tied down, they would prefer to "keep their options open." And, once again, Ron had to come to grips with his own commitment phobia. "I have a pretty good life as a single guy," he told me. "Why run the risk of another bad marriage?"
What About You?
If you're in the dating world today, my heart goes out to you. I sincerely hope you've had an easier time than my good friend Ron.
Although I could attempt to provide all sorts of spiritual platitudes and additional advice, let me close with just a simple reminder from Scripture:
Trust in the Lord with all your heart,
And lean not on your own understanding;
In all your ways acknowledge Him,
And He shall direct your paths (Proverbs 3:5-6).
I wish you well on this perilous journey!
If you enjoyed this article, get free email updates!