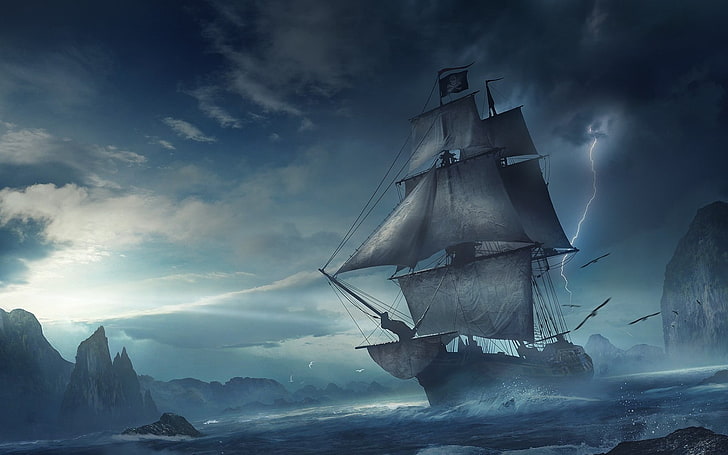 Thanks to the COVID-19 virus, the world finds itself in an incredible storm. There have been devastating consequences to people's health, finances, and even freedom. But notice that I started with the word "THANKS," because I'm beginning to see that this storm can also result in many unexpected benefits.
In a future blog, I will list some of the benefits we can discover in this pandemic – and the benefits are many. However, today I will focus on just one: the blessing of getting rid of stuff we don't really need. And let's be honest: Although we don't all have to become complete minimalists, most of us can certainly benefit from some downsizing.
The Bible says a lot about storms. Why? Because storms are an inevitable part of the human experience. No one is immune.
One of my favorite "storm stories" is the account of Paul on his way to stand trial in Rome (Acts 27). He was on a ship that encountered a hurricane along the way, putting everyone in peril. The sailors decided their only chance of survival was to lighten the load:
The next day, as gale-force winds continued to batter the ship, the crew began throwing the cargo overboard. The following day they even took some of the ship's gear and threw it overboard (Acts 27:18-19 NLT).
Take a moment to let these words sink in. When you encounter a fierce storm, it's wise to toss unnecessary things overboard. Your survival is more important than your stuff.
The present pandemic is revealing that we can survive without many of our luxuries. Restaurants are closed, forcing us to cook at home. Movie theaters have shut down, so we have to watch Netflix and make our own popcorn. Concerts and sports events have been cancelled, so we have to watch reruns. Megachurches have closed their doors, so we must pray and worship with just our family or a small group of friends.
Such hardships!
Forgive me if it seems I'm minimizing the present storm. While many of us have merely been inconvenienced, some people are truly facing overwhelming challenges. My heart goes out to them.
Nevertheless, we have to remember that storms don't last forever. And once the current storm is over, I'm confident we'll find ourselves better off in some ways.
More Fruitful
When an intense storm comes your way, it's tempting to think God must be trying to kill you. That's exactly what Jesus' disciples thought when their storm-tossed boat was about to capsize on the Sea of Galilee. The terrified men cried out, "Teacher, don't you care that we're going to drown?" (Mark 4:38 NLT).
Meanwhile, Jesus wasn't worried at all. In fact, He would have slept through the entire event if the disciples hadn't wakened Him.
My friend, storms don't worry Jesus, and they shouldn't worry us either. He understands that storms don't come our way to DOOM us but to PRUNE us.
What does your neighborhood look like after a violent storm passes by? Most likely, you will see numerous tree branches that have been blown down by the wind. But notice this: The healthy branches had no trouble surviving the storm – only the dead branches were affected.
Do you see how beautiful this is? God allows storms to prune away the dead branches in our lives – removing things that cling to us without bearing any fruit.
Hey, it's painful to be pruned. We all have some useless attitudes, activities, relationships, and expenditures – things that are hindering rather than advancing God's purpose of our lives. But although such things are dead branches, we've become accustomed to them. They may be useless or even detrimental, yet it's hard to see them go.
If you're being pruned by life's storms today, take courage. Jesus promised that pruning is God's pathway to great fruitfulness (John 15:1-5). At the end of the storm, your dead branches will be gone, enabling you to thrive like never before.
Paul's Discovery
The Acts 27 storm was just one of the trials experienced by the apostle Paul (see 2 Corinthians 11:23-28). Amid the many hardships and injustices he faced, Paul came to an astounding conclusion:
We know that God causes everything to work together for the good of those who love God and are called according to his purpose for them (Romans 8:28 NLT).
Yes, God can bring us benefits even during experiences we consider "bad" or "evil." Later in the same chapter, Paul acknowledges that even devout believers may face trouble, calamity, persecution, and danger in this life. Yet we're called to be overcomers:
Despite all these things, overwhelming victory is ours through Christ, who loved us. And I am convinced that nothing can ever separate us from God's love (Romans 8:37-38 NLT).
This storm will pass, my friend. Although you may need to toss some unnecessary things overboard, God's love will remain. You can trust Him to bring you safely to victory, more fruitful than ever before.
If you enjoyed this article, get free email updates!