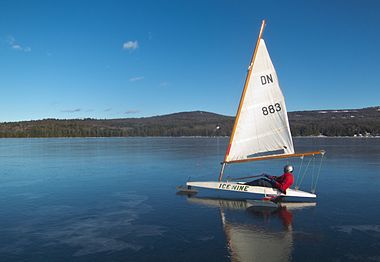 Have you ever been in a sailboat when it seemed there was absolutely no breeze? While experienced sailors somehow can catch the wind when there is no wind, amateurs like me often find ourselves dead in the water, going nowhere.
Sailing is such an apt metaphor for life. Winds come and go, blowing from one direction or another. But no matter what winds we encounter, we must resolutely set our sail and rudder toward our desired destination.
Yet this is a mystery in some ways. Even Solomon, known for his great wisdom, admitted he didn't understand how ships can stay on course, even amid adverse winds (Proverbs 30:18-19).
So here's a question to ask: Which way are the winds blowing in your  life today? Are you experiencing pleasant breezes or fierce, unrelenting windstorms? Or perhaps you find yourself wearily praying for a "second wind" or a gust to help you get unstuck from your present doldrums.
From time to time, we all need a fresh gust of wind. Whether in our family, our finances, our ministry, or our career, things get pretty stale if no wind is blowing.
Although I've tended to shy away from sharing "prophetic" impressions in my blogs, recently I sensed God speaking to me through the metaphor of sailing. Even though the past few months have been fantastic in many ways, I sense that they've just gotten me ready for what's ahead.
As I was praying about these things, I felt that God was saying quite distinctly, "Get ready for a gust  in August!" I took that as very good news. I've never liked to drift listlessly in the water, so it was great to hear that a new blast of wind was on the way!
However, I've also experienced times in my life when God sent a fresh gust of His Spirit and I wasn't prepared. A strong breeze does a sailboat no good if the sail isn't ready and the rudder isn't set. Even worse, it can capsize the boat if the sailor isn't paying attention!
Will God truly send "a gust" in Au-gust? We will find out soon! But one thing is for sure: It's best to be ready.
Sailboats are a lot like eagles, for both rely heavily on wind currents to supply their propulsion. We're promised in Isaiah 40:31, "Those who wait on the Lord shall renew their strength; they shall mount up with wings like eagles, they shall run and not be weary, they shall walk and not faint."
The message here for eagles, sailboats, or Christians is clear: Continually needing new strength and inspiration, we must wait expectantly for God to send a new gust of His divine wind. And based on Isaiah's promise, we can expect a gust of God's Spirit anytime, and any month, we're willing to wait for it.
So now's the time to prepare our hearts to be ready when it comes!
If you enjoyed this article, get free email updates!